SEO = Being Find-able on the Internet With #CustServ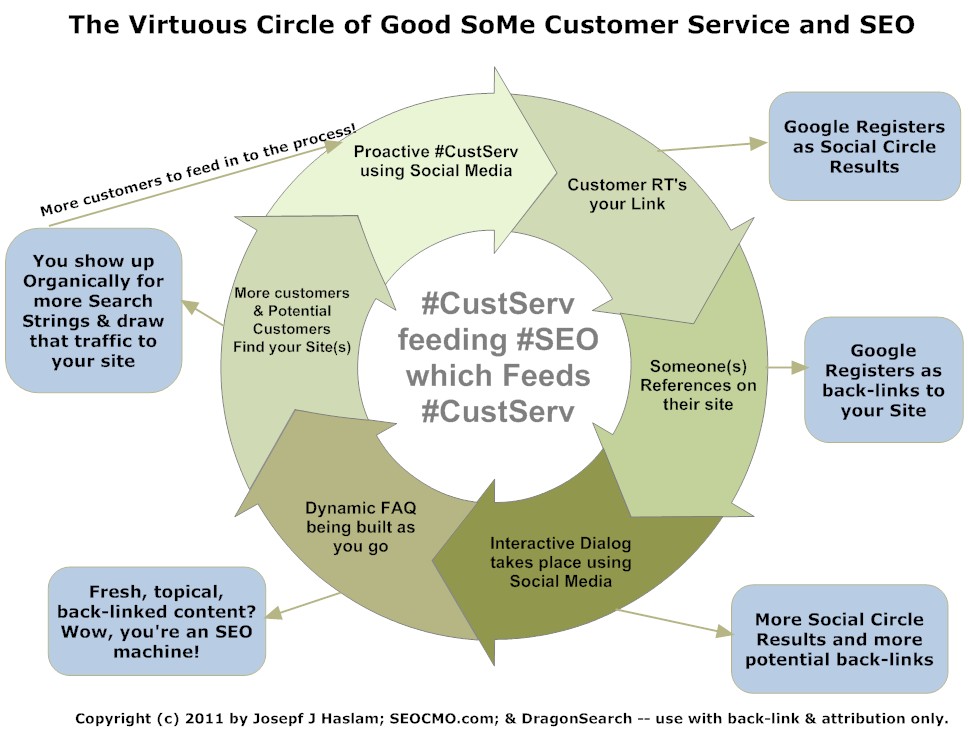 So how does performing Social Media Customer Service help and why do you care? Let's break down the Graphic Step by Step
Step One: A good Social Media Strategy and Implementation for Customer Service
Yes, we used the "strategy" word. Everything you do digitally needs to have a strategy. Let's fast forward: you have a Social Media based Customer Service Strategy and are engaging your customers. Congratulations, this give you an excellent opportunity to also build SEO credibility!
Step Two: Use Quality Links & "Link Bait" to Organically Earn RTs.
Once you are "up-to-speed" and are doing the job correctly, your customers will – at least occasionally – find something of enough interest to "re-tweet" or Facebook, LinkedIn, or Google-plus share it.  These interactions are very important and valuable!  Google (see below videos for more information) will display share results across your social circle.  And, if your customers RT your links, you get a ripple effect as their social circle can also see your information.  There are many implications to this which will be addressed in future posts (stay tuned).
Step Three: Become Reference-able!
Social Circle results are very nice but are also fairly time sensitive.  For long-lasting SEO benefits you need to earn a back-link.  A back-link is when someone references your site from theirs.  There are varying degrees of quality of back-links, but for our simplified purposes here, getting a customer to reference your site from theirs is nothing but #awesomesauce.  Make it easy and worth it for people to reference your materials, answers, blog posts, or whatever your special sauce might happen to be.
Step Four: Engagement = Interactive = More RT Love
Have you met Lolly Daskal yet? Go find her and get a crash course in being engaged. Lolly's lead from within blog and Twitter group provide some excellent primers (and advancement) on engagement. Be engaged in Social Media, don't be a broadcaster. The more interaction you have with your customers the more likely you are to be referenced or RT'd (ReTweeted).
Step Five: Be Smart & Save Your #CustServ Answers!
Curate your Social Media answers one way or another.  Turning them into a running series of Blog Posts and FAQ pages allows you to re-use and re-purpose the material and give you somewhere to hang bit.ly type links off of.  I love bit.ly Pro and use it with my own domain.  This allows me to customize and save for easy reference, links that I know I'll reuse over and over such as Josepf.co/StopFollow.  As you build your content, you refresh your website (always a good thing) and have the potential of getting deep back-links which could earn some very nice SEO credit for you.  Check out other resources such as Trunk.ly and Twylah. 
Step Six: Reap the Rewards of More Customers!
You got the circle running and guess what?  The Search Engines reward you by improving your search engine ranking for more and more keywords (search strings or queries).  This puts you in front of more people who might need your product or service!  If you rank on the first page "sweet spot" (typically the top 4-5 organic listings) then this could bring some significant traffic to your website!  Let's assume you know how to convert some of this traffic into leads.   You are then spinning the circle faster and more effectively!
Yes, this is over-simplified!  But it's a blog post!  Not a six month consulting engagement! The point is that running a strategic Social Media based Customer Service effort can and will reap big rewards to your business by aiding and enhancing your SEO efforts.
For Those Who Want to Hear from Google's Mouth What a Social Circle Result Even is….